Corsair Vengeance C70 Negra - Lista para la batalla.
La caja ATX Corsair Vengeance C70 es un case mid-tower fabricada con acero sólido y hecha para sobrevivir viajes sin desgaste. Las manijas de agarre permiten transportar tu PC con total confianza .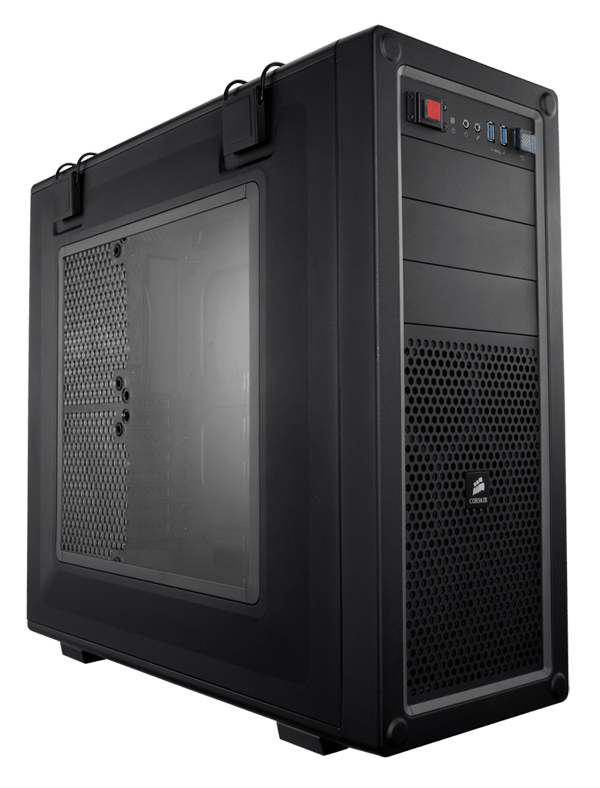 Air Cover
High-performance gaming hardware requires high-performance cooling. Vengeance C70 is equipped with three 120mm fans out of the box, with mounting points for seven more to meet your exact air cooling demands.
...and Water Cover, too.
Vengeance C70 is also outfitted for liquid cooling upgradeability. You get 240mm radiator compatibility on top of the case, and if that's not enough, you can remove the lower hard drive cage to fit a second 240mm radiator for a dual-loop setup.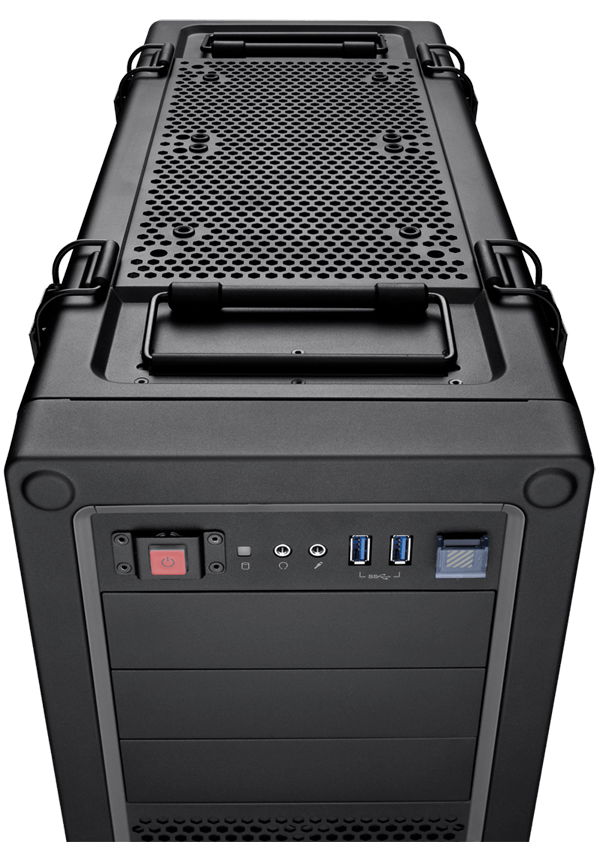 Gear Up.
A case is as much a part of your armory as any other component. With internal USB 3.0 connectors for modern motherboards, native SSD compatibility, eight expansion slots and room for long graphics cards, the C70 stands ready to take on any challenger.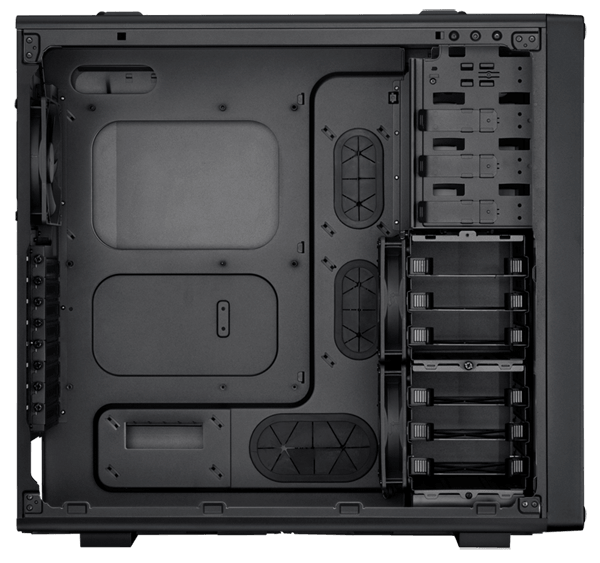 Lock and load.
Easy access side panels come off with quick-release latches. The optical drive bays and 3.5" hard drive bays are tool-free. Thumbscrews secure your graphics cards, and the hard drive cages can be easily removed for better airflow or additional expansion room. Cable routing tie-downs and built-in clamps keep your system tidy.
With so many usability features, the Vengeance C70 does what it's supposed to do — stay out of your way while you build or upgrade.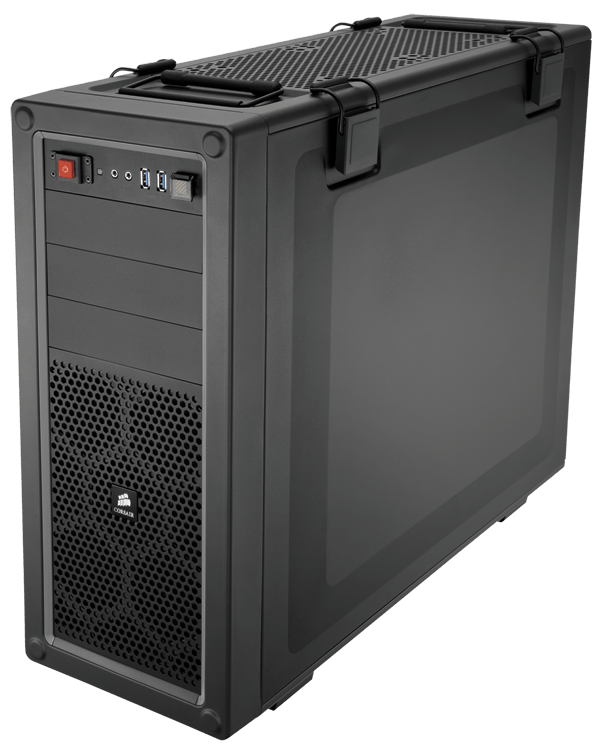 ---
Contenido y Especificaciones
Contenido del paquete
Vengeance C70 Gaming Case
Accessory kit with screws and cable routing tools for a clean build
Quick Start Guide
Compatibilidad
motherboards ATX y Micro ATX
Especificaciones Técnicas
Espacio para dos radiadores de 240mm retirando la cajas de discos duros
Instalación Tool-free, sin herramientas para los 8 slots de expansión
Panel frontal USB 3.0
Ventana lateral oscurecida con montaje para dos ventiladores permite refrigerar y ver la máquina con estilo
Tres bahias 5.25" bays y seis 3.5"/2.5" para expansión de discos duros
Dos ventiladores de 120mm incluidos ingresando aire directamente a la PU y tarjeta de video y Un ventilador de 120mm incluido en la parte trasera para expulsar el aire caliente.
Especificaciones de la Caja ATX Corsair Vengeance C70
Peso
8.3kg
Case Form Factor
Mid-Tower
Tamaño
533mm x 232mm x 501mm
Soporte de Motherboards
Mini-ITX, MicroATX, ATX, E-ATX
Largo máximo de tarjeta de video
320mm
Alto máximo de disipador de calor
170mm
Largo maximo de fuente PSU
180mm
Case Expansion Slots
8
Bahias para Discos Durtos / Unidades opticas
(x3) 5.25in
(x6) Combo 3.5in/2.5in
Material
Acero
Fuente de poder
ATX (no incluida)
Conexiones disponibles en Corsair C70
(x2) USB 3.0
(x1) Headphone Port
(x1) Microphone Port
Montaje disponible para ventiladores
Front: (x2) 120mm
Arriba: (x2) 120/140mm
Atras: (x1) 120mm
Abajo: (x2) 120/140mm
Lado: (x2) 120/140mm
MId: (x2) 120mm
Ventiladores incluidos
Atras: (x1) 120mm
Frente: (x2) 120mm
Posibilidad de Montaje de Radiadores
Arriba: 240/280mm
Atras: 120mm
Abajo: 240/280mm
Refrigeración Liquida de Corsair COmpatibles
H55, H60, H75, H80i, H90, H100i, H105, H110